What Are Promotional Products?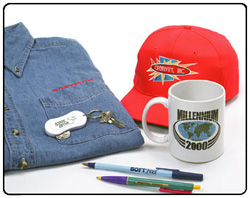 Promotional products are useful and attractive items, imprinted with your name and logo and any promotional message you want. This advertising method is one of the most popular and economical forms of advertising, providing more ad-time for less cost per exposure than TV, radio or print. You probably use a product supplied by a company using promotional products.
Long after a potential customer meets you and months after the annual meeting or employee motivation program, people will remember your company and event whenever they use or see the items they received then. Promotional products encourage, inspire and remind while advertising and /or promoting a company and its message.
Promotional Products Have Staying Power
A survey taken at O'Hare International Airport in Chicago showed that 63% of the travelers interviewed were carrying an Advertising Specialty. The survey also measured what impact these products have on recipients:
78% enjoyed having the item
71% recalled who gave them the item
60% recalled the advertiser's name
54% used the product or service
53% felt good about the advertise
The Top Uses For Promotional Product and Adverting Specialties
Business Gifts
Event Marketing
Trade Shows
Employee Relations
Public Relations
Motivation and Incentives
Traffic Building
Recognition/Service Awards
Brand Awareness
Souvenir/Remembrance.
Safety Programs
Product Rollouts
Point-of-Purchase
Direct-Mail Marketing
Partial List of Most Popular Promotional Products
Pens
Caps
T-shirts
Mugs
Calendars
Tote Bags
Key Tags
Magnets
Polo Shirts
Balloons
Stadium Cups
Travel Mugs
Sports Bottles
Ice Scrapers
Calculators
Mouse Pads
Scratch Pads
Rulers & Yardsticks
Tape Measures
Jackets
Pedometers
Hand Sanitizers